Gianfranco Villegas
SELF MADE BY GIANFRANCO VILLEGAS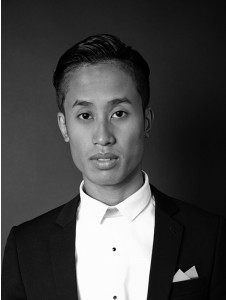 polimoda
http://www.notjustalabel.com/self_made
Florence, Italy
"SELF MADE by Gianfranco Villegas" is a project born from Gianfranco Villegas, who was born and grew up in Florence in 1990 from Filipino parents.
He grew up alone with his mother not in the best situation. This is the main thing that characterized his life and his personality. He started at the age of 14 to work to satisfy his huge passion for fashion, specially Men's wear, looking with enthusiasm at Mr. Raf Simons. But even if He was working during the weekends and summers He kept studying till his graduation at the prestigious Polimoda Fashion School, in Florence in 2013. There He started to express his dreams, his strong feelings, his struggle through his creations, till his BA collection that was inspired infact from his origins, and the Italian and the Philippine culture, where He mixed luxury materials with very technical materials and also a very rare handmade material of the Islands of the Philippines, that is a mix of pure silk with pure pineapple fibers.
In January 2012 his first year knitwear project, that was a particular colourful knitwear leggins made for a very fat figure has been chosen from the ex Art Director of COMME des GARÇONS and Yohji Yamamoto, Mr. Marc Ascoli as one of the main piece to build up the mood of a fashion event "Vestirsi da Uomo" during "PITTI UOMO 81". Then the designer started with lots of determination and ambition to collaborate with independent young artists and magazines around Europe.
In October 2012 He started his collaboration with the talented young designer Erik Bjerkesjo, till he became his main assistant.
In his creations the designer tries to experiment very classical and elegant pieces like suits, or shirts, by using unusual materials or cuts. The main thing is that every single detail, seam is carefully studied to be perfect and clean. He pays lots of attention to handmaded finishes, and luxury and elegant details. He also has a big passion for Art thats why he used to travel a lot around the most important Art fairs and contemporary museums.
Now He moved to Antwerp where He is having a fashion experience at Cedric Jacquemyn's atelier where He is improving his fashion and industry knowledge.
In April 2014 He is going to be part of the fashion event "Fashion Culture" where He is going to show his collection with a fashion show at the Victoria&Albert Museum in London.