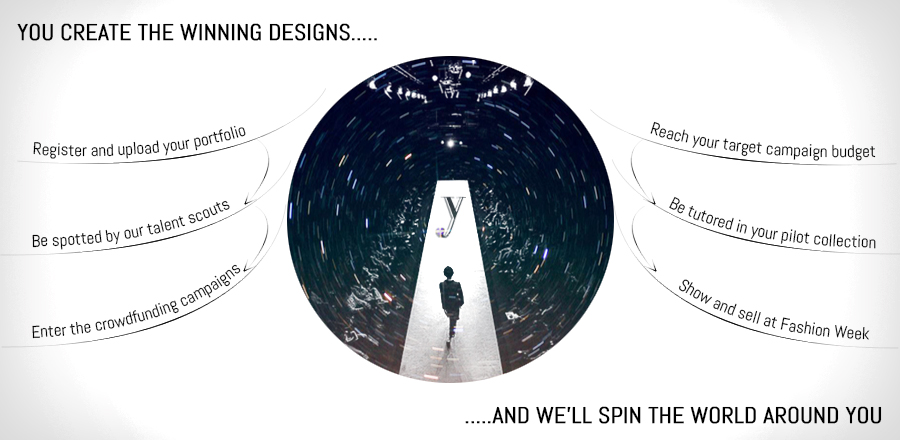 The Fashion Spyder team are always spying for new talent to nurture and promote. All of the portfolios published on our site are monitored by our talent scouts and when they spy a designer who they feel has what it takes to succeed they preselect them as candidates for the crowd-funding campaigns.
Once the team has chosen their candidates they prepare a customized format for them to complete. The designers are then asked to respond with a development of their project, based on the customized format, and to present motivations for future projects. The designers will also prepare an introduction to their designer profiles, a video biography and a portfolio.
From the completed applications we receive our talent scouts will select the designers who will be promoted by Fashion Spyder. The scouts final decision will be based upon criteria that calculates the market price of each item developed and who has the greatest chance of selling their collection. The selected profiles will be published on the crowd-funding partner website with a timeline of sixty days to reach the target budget.
Designers will offer the funders unique and valuable perks in return for their support in funding the collection.
When the crowd-funding campaign reaches its end, we will declare the winning candidates who have reached their target and start the next phase of tutoring them through the production of their pilot collections for Fashion Week.
Representative sellers from our team will transfer the finished collection to our show room at Fashion Week, meet with buyers and collect orders for sales. During the exhibition we keep our blog updated daily and publish our activities across all our social media platforms to reach additional buyers.
With the help our dedicated team, designers will have every opportunity to achieve success with their fashion business.
Register with Fashion Spyder today and join the team that's dedicated to your success.