ELENI KYRIACOU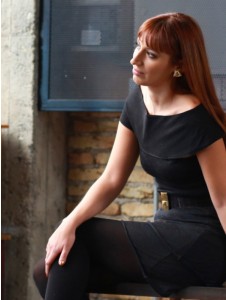 central saint martins
http://www.elenikyriacou.com
LONDON, United Kingdom
The design concept is central to Eleni Kyriacou's work. She aims to translate the essence of the design concept into fashion through innovative use of textile and form. She is characterised through her sensitivity and originality in her use of texture. She believes in creating inventive garments that are also wearable.

Eleni Kyriacou launched her womenswear label in October 2011. She has since created six ready to wear collections. She participated in Paris Fashion Week for SS14 and AW14-15, for which she received support from The UKFT (UK Fashion and Textile Association) and The UKTI (UK Trade and Investment). In 2013 she was selected by the mobile accessories brand Keka Case to design a collection of casing for mobile telephones, Ipads and Kindles. Marie-Claire France has described Eleni Kyriacou's work as: 'Ultra-structural whilst maintaining an apparent fluidity'.

Eleni Kyriacou originally studied architecture at The Bartlett, UCL and textile design at Central Saint Martin's, where she won a prize for best design for sustainability. She also apprenticed for the late Alexander Mcqueen. Eleni is based between London and Athens, working in studios in both.​​​​​​​​​​​​​​​​​​​​​​​​​​​​​​​​​​​​​​​​​​​​​​​​​​​​​​​​​​​​​​​​​​​​​​​​​​​​​​​​​​​​​​​​​​​​​​​​​​​​​​​​​​​​​​​​​​​​​​​​​​​​​​​​​​​​​​​